EXCELLENT FUNCTION OF ONLY STICO
Based on independent Slip-Resistance Test Results, it was proven and evaluated to be 1st grade by KOSHA.
The result of its performance double or triple in comparison to their competitors.
NANOTECH STICO is a member of SATRA organization as a slip-resistance footwear manufacturer.
STICO's outsole performance shows very little variation due to the rate of expansion to oil(0.4%) within a 24 hours time frame. This is considered the least variance among all slip resistant manufactures in the market
The key to successful oily slip resistant footwear depends on the durability of abrasion and the detrition of the slip resistant outsole stained by oil for a long period time. As a result, STICO has the highest Oil-Resistant technology; therefore, STICO's outsole does not lose the function of slip-resistance for a long time.
In case of other competitors's slip resistant footwear, they generally ranked over 8% of measurement result and 12% in comparison to ordinary footwear. The difference is about 20 times than that of STICO. If one is to put in perspective of time, the function of other brands slip resistant footwear will last for about 6 months based on normal daily use. As for STICO's footwear, they have been tested to last at least 2 to 3 years.
The durability of abrasion of STICO's footwear is over NBS250, which is a rating given to footwear that will be worn down evenly throughout time. Generally shoes last only for one year in comparison, STICO's footwear can be worn for about 3 years while keeping slip-resistance function.
STICO's footwear is able to retain its slip-resistance function even after possibly grinding down its outsole.
Other slip resistant shoes outsole is interior to STICO's outsole is the durability of abrasion. In cases where the function of slip-resistance might be the same at time of purchase, it will not be able to outperform the durability of STICO's technology.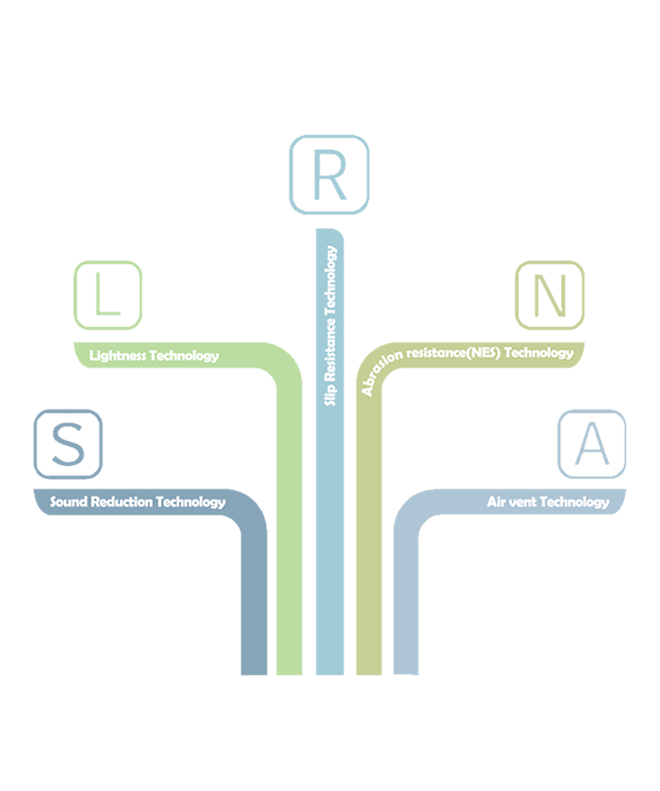 R THE WORLD'S BEST SLIP RESISTANCE TECHNOLOGY
L THE WORLD'S BEST LIGHTNESS TECHNOLOGY
NTHE WORLD'S BEST ABRASION RESISTANCE(NBS) TECHNOLOGY
A THE WORLD'S BEST AIR VENT TECHNOLOGY
F THE WORLD'S BEST AUTO FX 3D PRINTING TECHNOLOGY
STICO's Recognized Techonology
Economic Promotion Agency
"New Art of Shoe Technology First Prize"
Ministry of Knowledge Economy
"Green Technology Certification"
Korea Occupational Safety & Health Agency
"Three Frequent Accidents Disaster Prevention Innovation Prize"
Pusan Metro-city / Ministry of Knowledge Economy
"Korea Top 10 New Technology Innovation Prize"
SMBA
"Designated of Promising Export Small & Medium Business"