THE STANDARD OF MANUFACTURING SLIP-RESISTANCE SHOWS IN KOSHA.
Over 0.36 the Coefficient of Friction (Detergent And Water/Glycerin)
Independent Slip Resistance Test Results
STICO Out-Grips the competition by over 300%
Shoes for Crews #0820
59%
Tradsafe by Walmart #2561642
34%
Payless SafeTStep #93383
33%
Sketchers Work #7132702
21%
Mark's Work #44000009987188
12%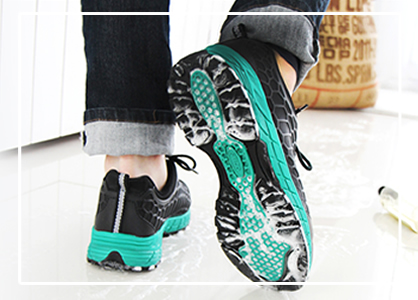 Stico anti-slip outsole was specifically designed to maximize the performance of friction on the slippery floors. Stico's complex technology combined with nano-ceramic technology and patented shoe outsole technology has created an outsole which function is more excellent than general shoes in the durability of abrasion and slip-resistance.
Article-No
Test item
Standards
Measures
6. remark 2-7
Optional Performance
Slip-resistance performance
Glycerin solution
1st grade exceeding 0.36 the coefficient of friction 2nd grade 0.25~0.35/td>
0.40
Detergentssolution
1st grade exceeding 0.36 the coefficient of friction 2nd grade 0.25~0.35
0.75